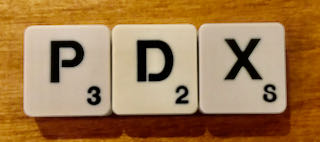 Welcome to The Portland Scrabble™ Clubs and Tournaments Website
PDX Word Nerds Unite!
Regular updates on Portland Scrabble activity can be found at:

PDX Scrabble on Meetup.com.

Club/Recreational Play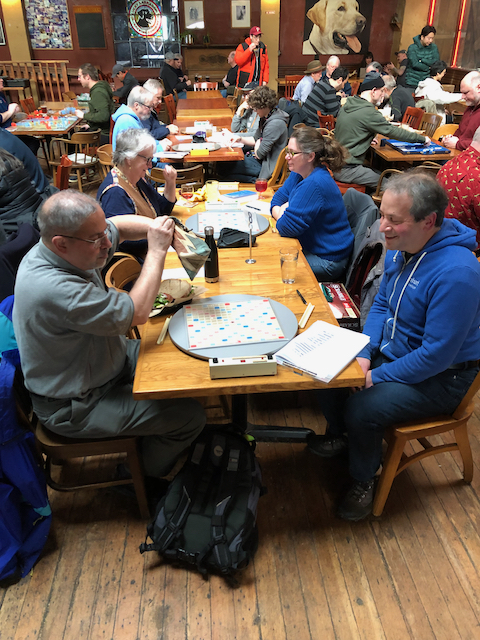 A special Scrabble Meet and Greet Meetup! We are having a day of free pizza, and play Scrabble "by any rules/dictionary that the players agree on" day at the Lucky Labrador, on Sunday March 5, starting at noon. Come enjoy free pizza and get the chance to meet other PDX people interested in Scrabble. Play some Scrabble. While there, optionally fill out a survey and help determine the direction of this Sunday group. We will start at noon and you can play Scrabble games by whatever rules/dictionary the players agree upon. Lucky Labrador, 915 SE Hawthorne Blvd, Portland, OR 97214. Noon-4PM. Free. Bring people who might be interested. All levels of players are welcome! Lots of extra boards/tiles will be provided, so you can come even if you don't have a board handy. Please RSVP (so that I know how much Pizza we are going to need) to pdxscrabble@gmail.com (Limited to 30 RSVPs)
Portland Scrabble Club: Weekly, Tuesday Nights at 6:15. Kairos United Church of Christ, 4790 SE Logus Rd, Milwaukie OR. We play in the building towards the back past the sanctuary. Not associated with the church. NASPA Rules. NWL20 Dictionary. Free for newcomers, $5 for regular attendees.
Lucky Labrador, 915 SE Hawthorne Blvd, Portland, OR 97214. Most Sundays: Noon-4PM. Check Facebook (above) whether we are meeting. WGPO Rules. NWL18 Dictionary. Free (food purchase suggested)
Soku Sushi & Noodle, 19171 Willamette Dr, West Linn, OR 97068, Most Fridays 1:00-4:00PM. Check Facebook (above) whether we are meeting. WGPO Rules. NWL18 Dictionary. Free. (food purchase suggested)
Scrabble and SuperScrabble, Thursdays 1:00–4:00PM, Lake Oswego Adult Community Center, 505 G Ave., Lake Oswego. Contact Ruth Hamilton ruthhamilton at q.com. OSPD Dictionary. Casual Informal games.
Wednesday Night Social Scrabble. McMenamin's on Broadway and NE 15th in the Lloyd District. No charge. 5:45 PM PST. OSPD Dictionary.
Saturday Night Social Scrabble. Lucky Labrador Beer Hall. 1945 NW Quimby St., Portland, OR. 6-8PM. OSPD Dictionary.
Game Timer
The Portland Scrabble Club, Lucky Labrador Hawthorne Club and the Soku Sushi Clubs try to maximize fairness and try to keep games moving along at a reasonable pace. To do that, they use a game timer. This allows these clubs to get in about 4 games in a session. Each player gets 25 minutes to complete all of their moves (with a small penalty per minute if you go over). To some, it may sound intimidating, but when you get used to it (which usually only takes a week or two), you will find that a clock makes the games clearer (you know when your opponent has completed their move), more exciting, and allows more play in a session. To help newcomers learn how to use the timer, we don't penalize newcomers if they go overtime.
Upcoming Tournaments
Note that you need to have played at least 4 games in sanctioned club style play (with a timer) to play in a local tournament.
September 1-4 PDX Words Labor Day Tournament.

Completed Tournaments

Questions?

Send e-mail to pdxscrabble@gmail.com

Scrabble is a trademark of Hasbro, Inc. in the US and Canada for their Scrabble Brand Crossword Game. It has no affiliation with this website or clubs and does not constitute a relationship or endorsement of any kind. For WGPO events, NASPA Word List 2018 (NWL18) is used with permission from NASPA